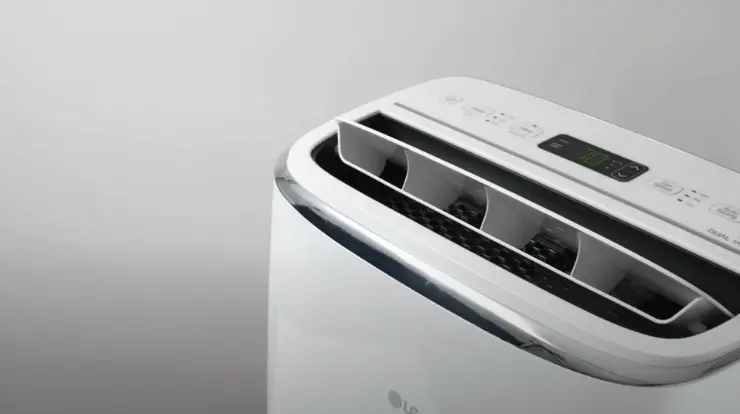 Last updated: July 14, 2022 at 7:57 am
During long, hot summer months a quiet air conditioner can be a godsend. There's nothing worse than being hot, sticky and feeling unable to sleep, or even live comfortably during the day.
Portable air conditioners are fairly common, but due to how they work, they naturally make noise. This excess noise doesn't help especially if using one to sleep better.
In this article:
We review our favourite quiet air conditioners, including a buying guide on what to look for when shopping around. We've included a range of conditioners so depending on whether you're using it in a bedroom, baby's room or living room, we've got you covered.
Due to how air conditioners work, they will never be completely silent. But some offer a quiet solution (usually a sleep mode) which offers a lower dB level. At Quiet Living, we score noise level with our Quiet Score.
At a Glance
Best overall: Black & Decker 45dB Quiet Conditioner
Best portable: BLU 12HP 4 in 1 Air Conditioner
Best Quiet Air Conditioners (Overview)
Below is an overview of the 6 quiet air conditioners we have reviewed. Click on each to jump to the full review. These are listed via Quiet Score, from quietest to loudest.
Although these are ranked in dB order, make sure to read through and weigh up the features of each. If there's a different of 2-3 dB it's negligible compared to other features they may have.
6 Low dB Air Conditioners (Reviewed)
1. Black & Decker BXAC40007GB 3 in 1 Air Conditioner –

Our #1 Pick
Solid choice from a well known brand
3 in 1 air conditioner offering a dehumidifier and fan
How quiet: 45 dB
Energy efficiency: A+
BTU: 7-12,000
Colour: White/Chrome
The Black & Decker BXAC40007GB is a great all round option. This model has four different BTU options ranging from 7,000 to 12,000… the higher the BTU, the pricier it is. Due to the range of BTU's available, this model is perfect for household usage either in a living room or bedroom.
On the lowest setting, the Black & Decker records a dB level of 45. Due to how air conditioners work, the higher the setting, the louder it will be. This is easily quiet enough to enjoy a peaceful nights sleep depending on how light a sleeper you are! A (relatively) compact size means it can be tucked away in a corner and not cause too much clutter, and the attractive chrome effect on the front adds a modern effect to a usually whitewashed item.
As mentioned in the title, this model also comes with a dehumidifier and fan. A built in tank is included and can be easily drained from the back when using the dehumidifier. This feature is a nice touch, as it can be used in winter months if your windows are prone to condensation… so more bang for your buck.
The only negative we can find with the BXAC40007GB is the lack of rotation. This means it needs to be manually positioned to where you'd like it. This features isn't all too common, so we can't complain too much.
Overall, the BXAC40007GB offers 45 dB (at lowest setting) and loads of features which really makes it stand out. Perfect for a bedroom/living room the modern finish allows it to blend into any modern home, and the included dehumidifier function means it can be used all year round – bonus!
Other features:
LED display
Remote control
Timer
---
2. BLU 12HP 4 in 1 Portable Silent Air Conditioner
Powerful choice offering 12,000 BTU
Good range of core features
How quiet: 49 dB
Energy efficiency: A
BTU: 12,000
Colour: White
The BLU 12HP offers powerful 12,000 BTU while keeping dB level low and extremely manageable. This is therefore a fantastic choice for those looking for a an extremely powerful options while keeping dB level low. Offering a sleep mode recording lows of 49 dB, living day to day with this model shouldn't be a problem.
4 in 1 functionality means as well as an air conditioner, a heater, dehumidifier and fan are included. Therefore, the BLU can be used all year round making sure your money goes further. This model uses an energy efficient refrigerant providing an eco friendly option if you're looking to keep your carbon footprint down.
Even though it's on wheels, moving it up and downstairs could be a problem as it's quite heavy, so it's best to roll this one around the same floor. We think this model is best used for larger living room, offices or kitchens.
Other features:
LED display
Temperature adjuster
Remote control
Window kit
---
3. Klarstein Energy Efficient Air Conditioner
An energy efficient option
Extremely quiet operation on sleep mode
How quiet: 50 dB
Energy efficiency: A
BTU: 7,000
Colour: White or Black
The Klarstein DXJ2-1500S is a great option for those cautious about how much energy they use. This is model also comes in two colour variation; black or white. What colour you choose (probably) depends more on your decor than the unit itself. It also has adjustable slats (vertically and horizontally) so you can control the direction of air at will.
Regardless of what setting this model is on, the highest noise level recorded was 56 dB, and the lowest 50 dB. This is incredibly low, more so on the highest setting. The quietest dB level can be achieved by using sleep mode.
The second best thing about this model is it's energy consumption. The Klarstein only uses 808 watts which would have a direct effect on your monthly electricity bill. The downside of having low energy consumption and very low noise level with this model is it's BTU. At 7,000 it's our lowest on our list, and therefore the least powerful.
Overall, the Klarstein air conditioner offers low dB levels at all speeds, and cheaper bills to boot. The negative being it's relatively low power. If you're looking to cool a small room (max 34 m²) and therefore not concerned with BTU, this model is as quiet as they come.
Other features:
Dehumidifier
LED display (with room temperature)
24 hour timer
Remote control
---
4. Inventor Chilly Air Conditioner with Sleep Mode
A compact option easily moveable between rooms
Environmentally friendly
How quiet: 52 dB
Energy efficiency: A
BTU: 9,000
Colour: White
The very catchy Chilly CLCO-290-09BS is a compact air conditioner with a punch. Only available with a BTU of 9,000, it's more than enough for cool a medium sized room. It's unfortunate this is the only BTU this model offers, it would have been nice to go up or down depending on what you're using it for.
Clocking in at 52 dB in sleep mode, the Chilly offers a quiet solution which most should be able to sleep through. Not the quietest or loudest on our list, it's a respectable choice with a few nice features. Sleep mode allows you to set a time when you'd like it to go into this mode, lowering the fan to be quieter for sleep.
Although this model doesn't rotate, it does offer some flexibility on the grills on the front. These are able to be adjusted to have some form of control over the air flow, albeit only up and down.
Overall, the Chilly doesn't offer quite as many features as others, but for a compact quiet air conditioner it's a solid choice. Best to be tucked away in the corner to cool a bedroom, living room or office, it'll do the job without have too many fancy features.
Other features:
Remote control
Wheels for movability
---
5. Devola Midea MPPH-09E Air Conditioner with LED Display
Sleep mode offering quite operating at 63 dB
Best for small/medium sized bedrooms and offices
How quiet: 63 dB
Energy efficiency: A
BTU: 9,000
Colour: White
The Midea MPPH-09E is a 3 in 1 air conditioner, dehumidifier and fan. Offering 9,000 BTU, this model is great at cooling small to medium sized spaces, which would be plenty for most people. A 7,000 BTU option is also available at a slightly lower prices for those not needing quite as much power.
The main feature (for our purpose) is sleep mode, which will use a lower fan settings to allow undisturbed sleep. This records a dB level of 63. The adjustable thermostat also allows you control the temperature of the room, so a nice feature for those looking for total control.
Due to the 7,000 or 9,000 BTU options, we feel the Midea is great for medium sized rooms, up to about 300 ft². It's compact so ideal for a bedroom, and the sleep mode with a lower fan setting produces less noise than the standard speed. We feel "sleep mode" is a bit of a marketing ploy as it's just a lower setting, but nice nonetheless.
Other features:
Remote control
24 hour timer
---
6. Midea MPPFB1-12CRN7 Smart Air Conditioner
Probably the most "high tech" air conditioner on our list with Wi-Fi connectivity
Compatible with Amazon Alexa and Google Assistant
How quiet: 65 dB
Energy efficiency: A
BTU: 9,000 or 12,000
Colour: White
The Smart Midea offers two options of 9,000 or 12,000 BTU – plenty for any sized home. The 12,000 option is a little more expensive, but worth it if looking to use in a bigger room. Similar to others on our list, this model also offers a standard fan and dehumidifier so it can be used all year round.
The sleep mode offers a dB level of 65 meaning you shouldn't be disturbed, and an adjustable thermostat can be adjusted between 17 – 35 degrees… giving you full control over temperature.
The Smart function is a really nice feature, which can be connected via Amazon Alexa or Google Home Assistant. This allows you temperature to be set via the app, and your preferred temperature can also be shared with others in the household.
There's not too much to dislike with this model. It offers all features you'd expect and more. It's not the quietest (in sleep mode) compared to a couple others, but as an overall option we like it a lot. The Smart function really sets it apart, so if you like you're gadgets it could be the one for you.
Other features:
24 hour timer
Remote control
Included window kit
LCD display
---
What to Look For (Buying Guide)
✔ BTU
BTU, or British Thermal Units, refers to the coverage the air conditioning unit will provide. A good rule of thumb is that it will take 20 BTU to cool each square foot of a room. So if your room is 300 square feet, you should be aiming for a unit with a BTU of 6000. Ideally, you should aim a little above this, as you might want to use it in a bigger room at some point. Plan for a BTU high enough to cool the biggest room in your home, and you'll stay cool and happy.
✔ Power
Yes, you need the unit to be quiet, so too much power is not good. Not enough power is a problem too, though. If the unit doesn't run at a reasonable speed, it will be ineffective, and you may as well not bother having it. Instead, aim for around machines that run between 10,000 and 14,000 BTU but only produce approximately 50 decibels of noise. This means you'll stay cool, but you won't be irritated by the noise coming from the unit.
✔ Weight And Portability
If you're not planning on air conditioning your entire house, you will likely want to move the unit between rooms. To keep the living room cool through the day, for example, and then cool your bedroom down enough to get to sleep at night. For that reason, you don't want it to weigh a ton so that you dread having to move it. It also helps if the unit has features designed to make moving it easier, such as handles and wheels
✔ Programmable
You might not want the temperature the same all day. For example, you could run the unit on a lower setting in the morning, so it's comfortably warm when you wake up, higher through the middle of the day when the sun is hottest and lower but still cool for getting to sleep at night. If you don't want to be getting up to change it every couple of hours, then programmable trigger points are your friend.
✔ Remote Control
Even if your unit is programmable, you might still want a remote. If you don't want to waste power running the air conditioner while you're asleep, it can be handy to keep a remote next to the bed. Then once you start getting sleepy, you can turn it off at the press of a button. It would also be useful if you're running it in your home office and you start to get too warm or too cool when working. A remote means you don't need to stop what you're doing and get up to change the temperature.
✔ Built-In Dehumidifier
If you've travelled to other warm countries, you will have become aware of the difference the air's humidity makes. A dry heat is usually much easier to cope with. While the UK certainly isn't tropical, there still remains a noticeable amount of moisture in the air. If you choose an air conditioner that includes a dehumidifier, it will keep you more comfortable during hot weather and also reduce the chance of damp or mould patches appearing in your home.
Related: Top-Rated Quiet Dehumidifiers to Eliminate Moisture
✔ Price
This one is always a factor. Prices vary between different types of units and the number of features they offer. Evaluate how large your rooms are and don't buy a more powerful unit than you need. Humidifiers, timers and remote controls are all great features but think if you really need them and write a list of must-haves. Once you know what you're looking for, consider your options and read user reviews before picking one that suits your needs and your budget.
---
Tricks to Stay Cool Without an Air Conditioner
Take a cold shower or bath – It may not sound appealing, but lying in cool water will make a real difference to how warm you feel. Start by wetting your hair as it can hold in a lot of heat. When you're done, standing near a fan or open window while still wet can also cool you down a lot.
Drink lots and lots of iced water – It's far more effective to cool yourself from the inside out rather than the reverse. If you're not a big fan of water, add lemons, limes or other fruit. Many squash manufacturers also offer flavour shots to give it some zing.
Stick your clothes, jammies and damp facecloths in the freezer – It sounds weird, but cold clothes, cold compresses and cold bedding make a huge difference when the temperature makes you hot and sticky. You should also get to know which parts of your body cool you best. Some people swear by a cold compress on their neck, some love an ice pack on their forehead, and others find running their wrists under the cold tap cools them best.
Indulge in a frozen treat or two – Ice lollies and ice creams are a great choice when the mercury rises. Just like the water, they help cool you from the inside. Slushes and fruit ice lollies also help keep you hydrated, which is very important all year round. You don't even have to break the bank buying them; a quick google search will get you a ton of recipes that you can make in bulk if you know the heatwave is going to last.
Get some cooling bedding – If you don't want to spend too much, gel pillows are available quite cheaply online and will help cool you down when you're trying to get to sleep. If you have a bit more cash, or more trouble sleeping at night, Arctic Aire sheets are also available. They claim to "wick away moisture to keep your body cool and comfortable while you sleep."
Close your blinds – It might sound counterintuitive, but a lot of the heat in your home comes in through the window. If you've invested in blackout blinds, then you know they block light from getting into the room. It does the same thing for the heat. Keep them closed during the hottest parts of the day and then raise them in the evening. Open your windows to let out any heat that has accumulated, and you'll find the temperature stays more comfortable.
---
Conclusion
Air conditioners are noisy, regardless or when or where they're used. Therefore, (we think) a quiet option is a must have, especially when having it on when sleeping.
The Black & Decker came out on top with a dB level of only 45, then the BLU 12HP at 49 dB. With a maximum noise level of 65 dB with all our options, regardless of which you choose, none of them should cause you too many noise problems. It's therefore down to what other features you're looking for… dehumidifier, timer, temperature control, moveable grills etc.
Think carefully about what you're essentials are because air conditioners certainly aren't cheap, and picking the wrong one could leave you out of pocket.