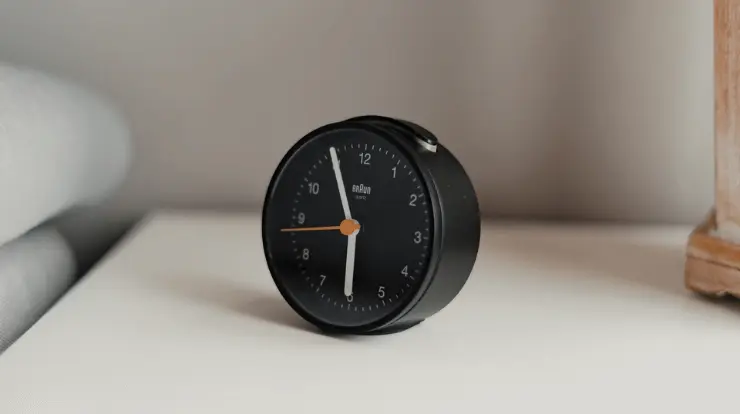 Last updated: March 22, 2023 at 11:02 am
Quiet alarm clocks –are there such a thing? This oxymoron is actually an effective way to wake up on time in the morning without bothering your partner, roommates or family members. Trading in a harsh, sudden and loud alarm for a gentle awakening sounds like a much more enticing way to start the day.
There are many different types of quiet or silent alarm clocks that can fit all kinds of sleepers, for heavy sleepers, as well as light sleepers, for those who are up and ready to go and those who need a little bit more motivation. Aside from waking you without disturbing the others in your household, what else can a quiet alarm clock bring to the table?
Features of a Great Quiet Alarm Clock
Now, what should you be looking for on your search for a quieter alarm clock? Some criteria that you should keep in mind are: the type of alarm be it vibration, light or sound; the device's operation; the types of waking sounds and; sleep therapy features.
Vibration, light or sound – Choosing the right type of alarm for you is important for a peaceful and effective waking experience. Try to keep an open mind to the less traditional alarm clocks, such as light and vibration alarms. You really might find that you like them and that they work well for you. And as mentioned, many of these alarm clocks have sound settings that can be used in combination with vibration and light.
Operation – Also, pay attention to operation when considering a quiet alarm clock. Light sleepers may opt for a more traditional, non-ticking device with sound adjustment. Heavy sleepers may prefer an alarm clock with vibrations that is strong enough to pull them out of their slumber without noisy sirens that will wake up others. A wearable, gentle-wake alarm option might even be readily available to you if you own a smartwatch or fitness device.
Waking sound – Another important factor for consideration is the type or types of waking sounds that your alarm clock provides. Instead of a harsh, artificial beeping sound, some devices offer a selection of natural sounds to bring a more peaceful and gentle start to your day. Even marathon beeping alarms provide a more gradual and gentler wake-up. Some may be searching for a completely noise-free alarm solution, which you can find in vibrating alarms.
Sleep therapy – In addition to finding a quiet alarm to suit your needs, many alternative alarm devices are also equipped with sleep therapy features. These can range from soothing sounds to help you fall asleep, to monitoring your sleep and ringing the alarm at the end of your sleep cycle so you wake feeling more alert and energetic.
---
6 Best Quiet Alarm Clocks (Summary)
Below is a summary table of our favourite quiet alarm clocks available today. Click on each to go to our full review. We've tried to incorporate all different kinds, so there should be at least one that suits your style and needs. The first three on our list are wake up lights, whereas the rest are the more traditional alarm clock.
6 Alarm Clocks for a Silent Morning (Full Reviews)
1. FITFORT Quiet Alarm Clock Incl Wake Up Light –

Our #1 Pick
A well rounded and feature packed quiet alarm clock
Extremely popular due to the very affordable price
How quiet: 5/5
Radio: Yes
Ticking: No
Our #1 recommendation for a quiet (or gentle) alarm clock is the FITFORT. Using a wake up light system, the FITFORT gradually increases brightness of the light over 30 minutes, simulating a sunrise. It then plays natural sounds of your choice, such as bird sounds or waves. You can also set the radio as the alarm, but we preferred the more relaxing natural sound method.
Anywhere on the clock will snooze so you don't have to fiddle about trying to find a button first thing in the morning. The snooze function keeps the light on, making sure you're gently woken up. The sounds can also be adjusted up or down depending how loud you'd like it.
There's also a very relaxing nighttime setting, which works the other way around. The light will gradually dim over 30 minutes creating a relaxing and comforting environment before sleep.
Overall, the FITFORT offers incredible value with numerous features designed to create a relaxing morning (and night). The price to benefit ratio is the reason this is #1 on our list.
---
2. GRDE Wake Up Light with USB Socket –

Our #2 Pick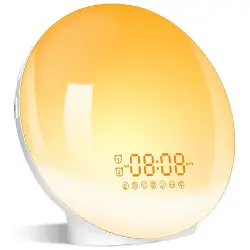 Another example of a great wake up/night light alarm clock
How quiet: 5/5
Radio: Yes
Ticking: No
Very similar to our first option, the GRDE offers a feature packed quiet alarm clock at an affordable price. The wake up light will gradually start at 10% brightness and increase to 100%, changing from a dim red to a bright yellow, to mimic the sun.
The GRDE comes equipped with two alarm, so you and partner can set different alarm at different times. The snooze function can only be used a maximum of five times, in case you're feeling particularly lazy that day!
The light feature also doubles up as a bedside lamp, so that's a nice way to save some space.
Coming equipped with seven natural sounds (same as the FITFORT) and an FM radio, the GRDE offers a terrific option for those looking for a gentle wake up call.
Many reviewers say this is excellent for SAD syndrome, and we don't disagree with the sum like light at 100% brightness.
---
3. Philips Alarm Clock with Sunrise/Sunset Simulation + Radio
The only "big company" quiet alarm clock on our list
By far the most expensive option
How quiet: 5/5
Radio: Yes
Ticking: No
For over 20 years Philips have been creating wake up lights to make mornings that little bit easier.
This wake up light gradually brightens to start your day, and gradually lowers as night falls. The USB socket allows you to charge your phone without the need for a separate charger.
A handy feature is the "midnight light" option activated by tapping the top. This puts on a dim red light which is handy in the dark, but not too bright to completely wake you up.
The Philips is a great alarm clock, however the price difference between our #1 and #2 recommendations places it third. It is the best quality build and a lot of thought has went into the design, so if money is no object this is definitely the most premium. We're just not sure it warrants such a big price difference between close alternatives.
---
4. Tisaika Silent Alarm Clock
Simple with no frills
Perfect for those looking for a quiet clock with minimal fuss
How quiet: 4/5
Radio: No
Ticking: No
The Tisaika is a basic option, but one that offers complete silence. No ticking with a large clock face makes it quiet and easy to operate.
It has minimal features compared to some on our list, but at a cheap price it's what you'd expect. A large button at the top can be used to toggle a light which is good for night reading, the same button is also used as the snooze function.
The negative of this clock is the alarm beeping which can't be changed. Others go above and beyond with relaxing sounds, so the alarm noise is definitely a negative. However, it is the only noise it will make.
As with all Tisaika products, it comes with a 5 year warranty as standard so for a cheap, reliable and (sometimes) unnecessary frills alarm clock, you can't go too wrong with this.
---
5. ECvision Silent Alarm Clock (Wooden)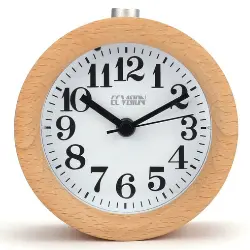 A different style to most on our list
More traditional looking for those looking for a specific look
How quiet: 3.5/5
Radio: No
Ticking: Yes
A more traditional looking alarm clock, the ECvision offers a round hand face, with a wooden backing. This alarm clock does tick, however it's below 10dB so shouldn't disturb you whilst sleeping.
A simple night light allows you to check the time in the dark, although not bright enough to use as a lamp replacement or reading light. Some may find this an advantage as it emits no light at night.
Perfect for travelling, this clock runs off batteries and is small enough to fit easily into all luggage.
Overall the ECvision is a simple, cheap and well built clock for those looking for no frills and a more traditional looking quiet alarm clock.
---
6. Flysocks Digital Alarm Clock with Wood Finish
A stylish rectangular alarm clock with good features
How quiet: 3/5
Radio: Yes
Ticking: No
The only digital quiet alarm clock on our list, in the classic sense, comes from Flysocks and unsurprisingly has a few features other don't have.
Equipped with a temperature gauge and a humidifier, it's great especially in summer months to make sure your room is cool enough for a good night's sleep. It also has three options for brightness to make sure your room is as dark as possible when drifting off.
The brightness will auto adjust so no need to fiddle with any buttons. Between 7am – 6pm it's bright, 6pm – 11pm moderate and dim from 11pm onwards.
It's also USB powered so can be charged through a computer, phone or laptop instead of the mains.
Overall the Flysocks is a great little unit. No snooze function which marked it down, and no noise other than beeping for the alarm. However with the brightness function, along with the temperature and humidifier, it's not one to be overlooked.
---
Benefits of a Quiet Alarm Clock
Quiet and silent alarm clocks are a great way to start your mornings on-time and refreshed, while your partner or roommates remain undisturbed. Not to mention that switching to a quiet alarm clock can improve your sleep quality in more ways than just a gentler wake up. There are many different alternatives to noisy and sudden alarm tones, and each come with their own unique benefits.
A popular variety of gentle-waking devices are sunrise or light alarm clocks. These alarms use light, sometimes in tandem with a sound alarm, to gently wake you. Often these devices work in phases, starting with dim light that gradually grows brighter leading up to your set alarm time.
Gentle wake up
Light-style alarms wake you in phases, mimicking the rising sun and stimulating sunlight to ease you awake naturally. Light therapy provided by these gentle alarm clocks can have a significant positive impact on your mood as you start the day. There are many different models of such sunrise or light alarm clocks on the market, equipped with sleep aids, a focus on natural sounds and even some that use aromatherapy to bring an extra soothing element to your wake-up routine.
Not disturbing your partner
For those who are looking specifically for an alarm that will avoid waking up their partner or other members of the household, vibrating alarm clocks are a category worth checking out. These devices use gentle vibrations to wake you up, and among all quiet alarm clocks, this style of alarm is probably the least disturbing to others sleeping in your home (and even your bed).
Vibrating (no loud noises)
Among vibrating alarms there are different styles, some are full-sized clocks that should be placed near your sleeping area or under your pillow to wake you. Some vibrating clocks have devices attached that slip under the pillow or the sheets and will vibrate when your alarm rings. And for heavy sleepers, or for those who are afraid that vibrations won't be enough, often times the devices can pair a sound alarm with the shaking to ensure that you wake up on time.
Vibrating alarms are not limited to just large alarm clocks that must go under your pillow or by your bedside. Another great vibrating alarm option is through a fitness device or a smartwatch. Since both of these devices are wearable, you won't have to risk losing your alarm between the sheets and pillows. What's more, because you will feel the gentle vibrations on your wrist, you are woken up startle-free and your partner will remain completely undisturbed, even if they are sleeping in the same bed.
No ticking
Some people are just light sleepers, and they don't want to lose their precious sleep over annoying ticking sounds from alarm clocks or to awaken in a panic from blaring alarms. For those sensitive to sounds during the night, an alarm with quiet sweep hands can change the game.
Clocks with quiet sweep hands or 'non-ticking' clocks, move in one continuous motion, functioning without any distracting ticking noise. Additionally, light sleepers may be included to check out clocks with an adjustable alarm volume. These clocks won't omit the alarm sound entirely, but they can be tailored to a reasonable volume that others in your home will find tolerable.
---
Rounding up the Quietest Alarm Clocks in 2020
After reviewing quiet alarm clocks for quite a few weeks now, we got a good sense what what to look for, and what isn't so important. We prioritised wake up light clocks as they scientifically offer the most calm wake up.
For this reason our top recommendation is the FITFORT wake up light, closely followed by the GRDE. Our third favourite is the Philips Sunrise/Sunset clock, however the price knocked this down the list. The others are more traditional, so if you're looking for a simpler and classic look these also offer great value.
Continuing with the clock theme, make sure to check out our silent wall clock article as well!