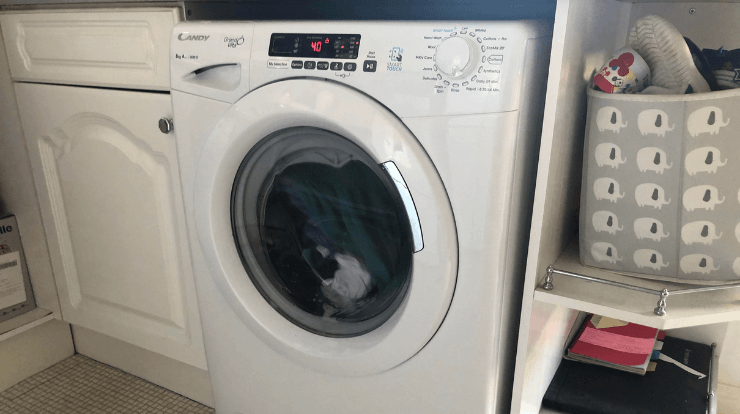 Last updated: March 22, 2023 at 11:00 am
The volume of a home washing machine is crucial to consider for most, especially for those who do not have a separate room for their washing machine. If your washer is in your kitchen or living area, loud washers can quickly become a headache when watching television, having conversations and when working from home.
Loud washers can also disturb your sleep if you want to run them at night or if they are located near a baby's room. For most, it is worthwhile to invest in a quiet washing machine because the benefits of a quiet and peaceful home environment are invaluable.
There are some key factors to look out for when searching for a quality, quieter washing machine. These days, many washing machines even have a noise rating. This is configured by taking the average decibel level for both the washing and spinning cycles.
Most washing machines fall within the 40-80 dB range, while models under 55 dB are considered to be particularly quiet. To put that in perspective, an average conversation at home would be about 50 dB, while a vacuum cleaner or a noisy restaurant comes in at 75 dB.
Features of a Great Quiet Washing Machine
Load Type
A great place to start when looking into quieter washing machines is to focus on the load type. Front-load washers are quieter overall. Typically, front load washers are quieter when filling the tub with water for washing and rinsing, and they have a quieter spin cycle as well.
These washers have a rather simple technique to keep spin cycles balanced. When front load washers sense an imbalanced load, they will first tumble the load at different speeds to loosen the clumps of clothes that may have formed, it will then proceed once the weight of the laundry load has evened out.
A well-balanced spin cycle causes fewer vibrations and shaking from the machine, resulting in less sound from the washer. While top load washers have a different technique: they must fill the tub with water, stir the clothes and then drain with hopes that the clothes have arranged in such a way that is adequate for the spin cycle.
This noisy process also prolongs the cycle and can be repeated even multiple times in an attempt to balance the load.
Vibrations
Another major contributor to washing machine noise comes from vibrations. The more vibrations, the louder the noise. There are some key features of modern washers that help to reduce vibrations and keep sound levels low. This type of noise could also be categorised as impact noise.
All common washers are equipped with balance rings, sensors and shock absorption or suspension. Washing machines use balance rings that have ball bearings or are filled with liquid to counterbalance the washing load during spins. This also absorbs vibrations to dampen the sound. As well, washers use springs and rods to suspend the tub within the body of the washer.
Higher quality suspension results in fewer vibrations and less shaking, and thus a quieter machine. Some machines may also be equipped with damper pads, snubber rings or rubber straps to absorb more of the vibrations. Sensors and algorithms are used to problem-solve unbalanced loads, finding the quickest solution to even them out.
Quiet Mark
There is another sought-after feature that those searching for a quieter washing machine look out for, and that's the Quiet Mark. The Quiet Mark is an international award programme associated with the UK Noise Abatement Society that recognizes excellent low-noise technologies.
This award encourages designers and manufacturers to reduce sound levels in their products. The label identifies products that have been selected as having quiet technology and little unwanted noise.
Companies entice buyers with buzzwords such as 'whisper quiet' or 'silent,' but with the Quiet Mark, their claims hold real value. Keep an eye out for the Quiet Mark if you are looking to buy or replace a washer.
Pulsing
There is one additional sound-reducing element that is featured on newer models of washers. Some washing machines use vibrating pulses to clean the clothes. Pulsing still removes dirt, stains and water from clothes during cleaning but without a spin cycle.
Often the height of the spin cycle creates the loudest noise for a washing machine, so by choosing a machine that uses pulsing, that noisy spinning can be bypassed entirely.
---
5 Top Quiet Washing Machines – Summary
Here's a quick table summary of our favourite quiet washing machines you can buy in the UK just now. Full reviews are further down the page, or you can click on each to take you directly there.
5 Best Quiet Washing Machines in 2020 – Full Reviews
1. Bosch WAT28371GB with EcoSilence Drive –

Our #1 Pick
EcoSilence drive meaning this model offers a quiet cycle whilst being energy efficient
All the features of a solid and functional washing machine
How quiet: 5/5
Load size: 9kg
Energy class: A+++
A quite exceptional choice, the Bosch WAT28371GB offers an extremely quiet wash cycle using it's EcoSilence technology. This means it uses a brushless motor, allowing the Bosch to be more energy efficient whilst also achieving a quieter wash.
The noise level is noted as being 49dB when washing, and 75dB when spinning. This comes well within the standard range of 40-80dB.
You also have the choice using Bosch' VarioPerfect which allows you to choose between a faster wash time of 65% less, or being more energy efficient by 50%. A great options if you're in a rush to finish a wash before heading out the door.
An additional feature which we love it the ability to add washing even when the cycle has started using a smart reload function.
Overall, the Bosch WAT28371GB is a great choice, which not only offers quiet washing and spinning, but is also rammed full of extra features sure to please the majority of users.
FAQ
Question: Where is this machine made?
Answer: Germany
Question: What is the warranty?
Answer: A 10 year warranty is included as standard
Question: What are the dimensions?
Answer: H84.8 x W59 x D59.8 (cm)
---
2. Samsung WW80K5413UW with Digital Inverted Motor –

Our #2 Pick
A superbly quiet washing machine with a digital inverted motor for less noise
Higher end model with a good 8kg load size
How quiet: 4/5
Load size: 8kg
Energy class: A+++
Coming in at #2 is the Samsung WW80K5413UW which is the most expensive option on our list. However, it does comes with certain features the others don't. The most impactful feature this model has which effects noise is it's Digital Inverter Motor. This motor emits less noise by vibrating less whilst achieving a reliable and thorough wash.
An "AddWash" feature allows you to add clothes in during a wash, so handy if you've missed the odd t-shirt or sock. Samsung's patented Ecobubble technology is also better for the environment as it allows washing at a colder temperature.
Overall the Samsung offers something the others don't. From Ecobubble to the quiet motor, it's certainly a great pick for someone looking to spend a little more to get a little more. The load size isn't as much as I'd like, however 8kg should be suitable for most families. Being able to add to the wash regardless of how long it has left is a great feature, one I'd certainly use often!
FAQ
Question: What kind of timer does this have?
Answer: Countdown
Question: Does it have app capability?
Answer: Yes you can download an app to diagnose problems
Question: What is the weight?
Answer: 63kg
---
3. Candy Grand'O Vita GVS169DC3
A solid and affordable machine with a surprisingly quiet wash/spin cycle
A UK best seller
How quiet: 4/5
Load size: 9kg
Energy class: A+++
A slightly cheap model than what you'd expect from a quiet washing machine, this model is particularly popular due to the price and the many features it offers.
The Candy Grand'O Vita offers a noticeably quiet cycle and comes with an A+++ energy rating as standard. Equipped with 15 programmes you can also download more via your mobile if needs be, but we found 15 would be more than enough for most peoples needs.
The drum is large so you could probably fit a little more in than the advertised 9kg, however we'd advise sticking with the manufacturers instructions. The only colour option is white, however the chrome door really improves the aesthetics of it, therefore we don't see that as a problem for most.
The Grand'O Vita is a great option with a range of features. Not specifically built to be quiet, we found it surpassed noise level worries… therefore makes in into our top 5 quiet washing machines!
FAQ
Question: What is the temperature range on this machine?
Answer: It ranges from 20-90 degrees
Question: What is the warranty?
Answer: Similar to our #1 pick this machine comes with a 10 year parts warranty
Question: What are the dimensions?
Answer: H85 x W60 x D52 (cm)
---
4. Hoover Dynamic DXOA69HC3B Quiet Washing Machine
A brand not often recognised for washing machines delivers this well-rounded option
Large capacity with a distant murmuring motor
How quiet: 4/5
Load size: 9kg
Energy class: A+++
The Hoover brand isn't known for it's washing machine, but they've delivered a great one here. Model DXOA69HC3B offers a 9kg load, with a motor with a low frequency murmur, the reason it's on our quiet washing machine list!
As with the rest of our list, this machine has an A+++ energy efficiency rating keeping your electricity bill minimal. A max spin speed of 1600rpm also offers adequate washing and spinning power. It also comes with 15 wash programmes to choose from so it should suit most needs.
The Hoover does everything it says it will. It's certainly not the most glamourous, but it does the job well. A good capacity, quiet motor and 15 wash cycles combined should be more than enough features to be happy with.
FAQ
Question: Does this have a delayed timer?
Answer: Yes
Question: Does this machine have a hot water inlet?
Answer: No
Question: What are the dimensions?
Answer: H85 x W60 x D54 (cm)
---
5. Indesit My Time EWD71452W with 7kg Load
Smallest load capacity on our list which helps with quietness
Best for small kitchens and flats
How quiet: 4/5
Load size: 7kg
Energy class: A++
In terms of load size the Indesit EWD71452W is the smallest washing machine on our list, but don't let that fool you, there's plenty to be happy about here. 16 built in wash programmes and an A++ energy rating makes this Indesit a decent machine for small households not needing a larger capacity.
The smaller load allows the Indesit to use a slightly smaller motor, hence not emitting as much noise. This model is also the cheapest on our list at just over £200, so it certainly offers value for money.
Generally with washing machines, we find the timer isn't incredibly accurate. My own stays at 1 minute left for a good 5 minutes, however this seemed to be very accurate.
FAQ
Question: Can the height be adjusted
Answer: The height could go to 83cm approx if screws fully down
Question: What is the warranty?
Answer: 1 year warranty with 10 year part warranty
Question: What are the dimensions?
Answer: H85 x W59.5 x D53.5 (cm)
---
What Makes a Washing Machine Noisy?
So, what in fact makes a washing machine noisy? It comes down to two major causes: the motor and vibrations. Many top-quality washers are now equipped with motors specifically designed to run quieter. Modern models even sport premium features such as brushless or inverter motors, and anti-vibration systems.
Vibrations are another main culprit of washer noise. Vibrations can decrease in a variety of ways, but the very best place to start is with the placement of your washer. If the machine is placed in a cabinet or close to other appliances or furniture, it must have adequate space so that it will not bump against anything while it is going through the spin cycle. You should also check that the surface the washer is resting on is level. Uneven flooring can cause increased shaking during its spin cycle and create loud rattling or thumping sounds.
In addition to reconfiguring your washer's placement, there are a few products that can help reduce the vibrations of your washing machine. Rubber or other sound dampening mats can be purchased to go underneath your washer unit.
As well, there are anti-vibration shock absorbers to go under the four corners of your machine. If you find that your washing machine is still making a lot of noise after tending to these matters, you may need to check that it was installed correctly. All the levelling and sound-proofing additions aren't going to be of much help if the foundation of the washer is faulty.
---
Conclusion: Washing in Peace
A squeaky, shaking, rumbling washing machine is a nightmare for those looking to relax, work, or sleep while they wash a load of laundry. Thankfully, there are many ways to cut the noise coming from your washer. Having a quieter washing machine will bring more peace and less distraction to you and your household (and your neighbours!).
Our top recommendation is the Bosch WAT28371GB followed closely by the Samsung WW80K5413UW. Each offer great features for the price, and both built with less noise at the forefront.