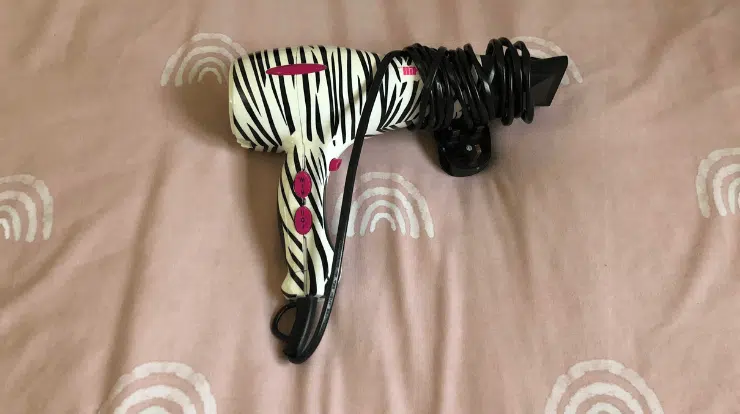 Last updated: October 4, 2023 at 15:01 pm
A quiet hair dryer can make a huge difference to your morning routine, especially if you're getting ready while others are still asleep or if you have thin walls.
In this article:
We'll look at the top 7 quietest hair dryers you can buy today, and importantly, what to look for when making your decision. Please note, due to the way hair dryers work, they will never be silent. We can only assess how quiet they are compared to other similar models.
Quietest Hair Dryers UK (Summary)
Here's a brief summary of our top 7. Click on each and jump to the full review further down the page.
Choosing a Hair Dryer (Buying Guide)
dB Level
Of course, dB level is the most important feature we're looking for. Standard hair dryers can be upwards of 100 dB, and we assess a quiet model to be in the region of 60-70 dB.
Speed setting also comes into play here, as a lower speed will guarantee a lower noise, however it's not always practical if you need more power.
Wattage
The higher wattage the more powerful the hair dryer will be. This is generally a good thing. However, when you have a higher wattage the dryer will be able to work harder, therefore producing more noise, in theory.
It not always the case of course, as some higher wattage dryers have been adapted to produce less sound, but it's something to keep in mind when looking at key features.
Speed/Heat
Speed and heat settings are important because they can determine how your hair is styled. More settings won't make the hair dryer noisier. However, the faster the speed, the noisier it will be.
Generally, we look for dryers that have at least three speed and heat settings to give it a higher level of functionality. The heat setting is more important than speed due to the difference heat can make to your hair style. Ideally, each dryer should have (at minimum) a low, medium and high heat setting.
Ionic Technology
Ionic is a bit of a buzz word when it comes to hair dryers. Achieving four main things;
it drys your hair faster
it does it with less frizz
it doesn't let water absorb into your hair as much
and you can dry your hair at a lower temperature
The hair dryer produces millions of ions which are negatively charged. These break down water molecules on the hair which are positive without increasing the size of the hair. This results in the hair staying smoother vs a normal dryer.
It's a great feature to have, but some of the dryers below have it and some don't. If it's essential to you, make sure to check the key features above each review.
Colour
The least important in terms of functionality, but a good deciding factor if everything else is equal. You have to look at it everyday, so you need to like what it looks like.
---
7 Best Quiet Hair Dryers (Full Reviews)
1. ghd Helios Low Sound Hair Dryer –

Our #1 Pick
✔ Best overall
How quiet: 5/5
Wattage: 2200w
Ionic: Yes
Warranty: 2 years
Coming in at #1 on our list is the high spec ghd Helios dryer. A 2200w motor allows an extremely fast drying time. This doesn't appear to effect it's noise level, in part due to its air distribution which dramatically reduces dB level.
The 3m long cable allows it to be used pretty much anywhere in the room, and the 2 year warranty ensures you won't be spending any more money if the worst was to happen.
At 780g it's not the heaviest, but also not the lightest. So, bare that in mind if you have mobility issues.
Overall, the ghd Helios offers a professional (and stylish) dry with all the features you'd come to expect. Fast dry and low noise allows it to be used in general quietness, and 5 different colour options of black, pink, plum, blue and white gives choice to match your style.
---
2. BaByliss Professional Hair Dryer –

Our #2 Pick
✔ Best overall
How quiet: 5/5
Wattage: 2200w
Ionic: Yes
Warranty: 10 years (motor only)
Next up we have the BaByliss 3Q professional hair dryer. First, it features a high-tech digital motor that controls airflow for maximum drying, smoothing, and shining. Its lightweight (at 560g) and portable, ensuring comfortability and ease of use. The handle, however, could have slightly better grip.
It includes an advanced noise reducing system and a specially designed air intake filter which makes this model quieter than normal. The 2200w motor brings sufficient power, which is offset by the air intake system just explained. With an intelligent digital motor, the BaByliss also dries quite fast.
Overall, the BaByliss is a great all round choice for those looking for value. Power combined with quiet design allows it to be used without disturbance and its weight means it can be taken on the go. The extremely long warranty of 10 years (motor only) also gives peace of mind if it were to break.
---
3. mdlondon BLOW Hair Dryer
✔ Best lightweight option
How quiet: 5/5
Wattage: 1600w
Ionic: Yes
Warranty: 3 years
Next up, we have the very impressive BLOW hair dryer from mdlondon. We've been testing this model for the past few weeks, and only have positive things to say. First off, BLOW only weighs around 360g so it's perfect for travel and practicality. This is roughly about half what a standard hair dryer usually weighs.
In terms of quietness, we recorded the BLOW at just over 70 dB. This made it hard to hear from another room, so using it early in the morning (or late at night) shouldn't be a problem.
It has three temperature and speed settings, so we found it incredibly fast to dry long hair. It's almost soft to touch, so also feels great in the hand.
If you're unsure which model to choose, this option checks all the boxes. Quiet, efficient and lightweight – you can't really go wrong.
---
4. ghd Air Professional Hair Dryer (Black)
✔ Best professional grade
How quiet: 4/5
Wattage: 2100w
Ionic: Yes
Warranty: 1 year
The ghd Air hair dryer will allow you dry, smoothen, and style your hair very quickly. Featuring ionic technology alongside a removable air filter… this contributes to its fast drying capabilities.
This dryer is most importantly beneficial due to its low noise design, regardless of the level of use its subjected to. It has a decent ergonomic feel so ensures comfortability.
It is, however, on the heavier side at 1500g, so if you're using it for prolonged use a lighter option would probably be better. The ghd Helios, for example, is around 780g.
We're also not convinced of the longevity of this model, but the 1 year warranty goes some way to easing our worries.
---
5. Lily England Rose Gold with Quiet Sound Tech
✔ Best cheap option
How quiet: 4/5
Wattage: 1800w
Ionic: No
Warranty: 1 year
The Lily England hair dryer is an excellent option for those looking to dry their hair in style due to its striking white/gold colour. This model is by far the cheapest on our list so a great option to save some pennies.
Three heat settings gives it a decent range, and the automatic shut off ensures it won't overheat.
The Lily England includes a quiet sound design which allows easy operation without too much worry about unwanted noise or vibration. It's quietness is in part due to it's low wattage at 1800w, however this does affect overall power.
This model also features a detachable nozzle which helps concentrate airflow for better styling.
---
6. Panasonic Low Noise Dryer in Pink/Black
✔ Best attachments
How quiet: 4/5
Wattage: 1875w
Ionic: Yes
Warranty: n/a
Designed to help smoothen hair, the Panasonic EH-NA65 low noise dryer features an anti-static ionic system which conditions hair for maximum moisturisation. This technology allows the deep penetration of moisture into each hair strand for optimal balance. It also minimizes potential damages from hair accessories… such as a hair brush, hair comb, etc.
This model also includes two nozzles, the quick-dry nozzle and the concentrator nozzle. While the former is for quick drying, the latter is for controlled drying helping you create a personalized hair drying effect.
This hair dryer also allows you to control the temperature and speed to match your hair condition of the desired style, thanks to the four temperature settings and three speed settings. The cool-shot button also lets you maintain your style longer than usual.
Overall, the Panasonic offers a good options at a very affordable price. The included attachments are a nice bonus. No sign of a warranty with this one, so best to check beforehand to make sure you're covered if anything happens.
---
7. VAISAAM Smart Dryer with Quiet Design
✔ Best for travel and holidays
How quiet: 3/5
Wattage: n/a
Ionic: Yes
Warranty: n/a
If you have forked, knotted, or dry hair, the VAISAAM smart hair dryer is an excellent option. The noise reducing system included in this hair dryer's design reduces operational noise up to 70 dB.
This hair dryer features an NTC temperature sensor and intelligent chip controller which detects the room temperature and dries your hair using a suitable temperature. This ensures your hair won't suffer from any damage during drying.
It allows you to dry your hair anytime, anywhere without worrying about disturbing your family members or next-door neighbors.
This hair dryer also includes three speed/heat settings of low, medium and high so it gives you a decent range. Although this is the least we'd expect.
We feel this model is best for travelling/holidays due to it's small and lightweight design. However, focusing on noise only, we feel there are better alternatives in the ghd and BaByliss options above.
---
Why You Might Need a Quiet Hair Dryer
You have ear problems – having an appliance which can be up to 100 dB right next to your ear is never good, especially if you use a hair dryer a couple of times per day. Continuous loud noises can also cause ear problems further down the line like tinnitus. The quieter the dryer, the less problematic they can be to existing or (potential) future ear problems.
You get ready when people are sleeping – disturbed sleep is a common problem with using a hair dryer, even more so if getting ready first thing in the morning.
You have pets/small children – if you've ever used a hair dryer in front of a pet or small child, you'll know they probably don't like the loud noises. Even more so, the last thing you want to do is wake a baby when they're sleeping.
---
Conclusion
As mentioned above, a hair dryer will never be completely silent. But, we can determine how quiet it is compared to others. Coming out on top is the ghd Helios, offering a strong motor combined with an air system which reduces overall noise.
For a slightly cheaper option, the BaByliss 3Q also ticks a lot of boxes. A lighter option than the Helios, it's better for continued use or to take away for travel.