Last updated: July 28, 2023 at 13:43 pm
While some may enjoy gentle rain falling lightly on a conservatory roof, this can also be a nuisance to those who wish for peace and quiet, especially when rainfall becomes heavy.
There are a few ways to reduce rain noise on conservatory roofs, but first, we must understand why this happens.
Why is Rain Typically Loud on Conservatory Roofs?
One of the main reasons why rain may be loud on a conservatory roof is if the conservatory has a polycarbonate roof. Polycarbonate roofs were a popular choice of material to use for a long time because of their lightweight nature. They're also quite an affordable option.
However:
A negative element of using a polycarbonate roof is that they are not soundproof. When rain hits polycarbonate roofs, it can sound extremely loud as a result. Along with the noise issue, polycarbonate roofs are not effective insulators either, so you'll experience very hot summers and very cold winters in your conservatory with a polycarbonate roof.
You'll run into a similar problem if you have early-generation double glazing. If you have a polycarbonate roof or early-generation double glazing, your best bet is to replace this material. There is little to no alternative options when it comes to reducing rain noise while using either of the above materials.
What Material Will Reduce Rain Noise?
Glass
Glass is a good option for reducing rain noise on conservatory roofs. It's a good material for absorbing sound, and you can even opt for noise-reducing glazing which will help the situation even more.
Double and triple glazing works wonderfully for soundproofing and will ensure complete peace. Along with this, you can go a step further and install specialist soundproof glazing which will be more expensive but worth the money in the long run.
The cost of this material replacement will be worth it as it's a guaranteed way to eliminate noise on conservatory roofs. You'll also benefit from this process in terms of the value of your home as glazing will add value as a result of energy efficiency.
An added benefit is that glazing will regulate the temperature of the area from winter through to summer. So, you will benefit in the long run in terms of finances while simultaneously reducing rain noise.
Tiled Roof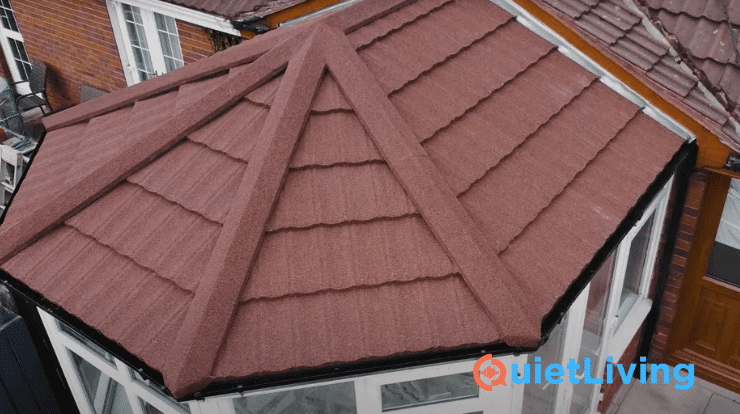 A tiled roof is becoming a more and more popular option due to its wonderful thermal performance and excellent noise reduction abilities.
You can decorate the tiled roof further by adding skylights or built-in speakers. This means you can visually enjoy the area along with benefiting from the noise reduction!
Thermotec
Another great option is to use a thermotec roof. Thermotec roof panels are made with thick thermal insulation and aluminium skins. This will result in a quieter conservatory as the rain noises are reduced when using this material.
The panels are thicker than polycarbonate panels, along with the added benefit that they're much faster to fit and you won't need to use a replacement conservatory roof throughout the process.
Thermotec roofs offer a wide range of colours and are easy to clean, making them the ideal material option for reducing rain noise on a conservatory roof.
Reducing Rain Noise on a Budget
There are a number of more budget-friendly ways that you can reduce rain noise on a conservatory roof.
1. Blinds
If you want to reduce rain noise on a budget, there are other options aside from replacing the window materials. For starters, you could use insulated blinds to reduce rain noise.
While blinds are not typically installed in a conservatory (conservatories are usually made to create optimum light in a room), you could install blinds that can be drawn only when it is raining.
Now:
This may be a less effective method compared to replacing the windows, blinds will soften the noise of rain on the roof.
Along with this:
If it's raining outside, it will be quite gloomy so you won't miss out on any light anyway. While blinds won't help with temperature, you can add blankets to the conservatory for this issue.
2. Rugs
People often choose laminate flooring or even tiles for their conservatories, but this will not help in the soundproofing process. Instead, you should opt for a carpet or a rug.
You can either carpet the entire area of the conservatory or use a rug if you prefer. A large and thick rug is your best bet as this will be able to trap rain noise and stop it from being able to reverberate around the room.
It's an affordable option if you shop around and you can even enhance the appearance of a conservatory, all while reducing the rain noise on the roof.
3. Decorative Pieces
Another way to reduce rain noise on a conservatory roof is to use decorative pieces such as a sofa, cushions, or a throw/blanket.
This works in the same way that a rug or carpet would. These decorative pieces will be able to soak up the noise of rain, thus, greatly reducing it.
4. Roof Lanterns
Roof lanterns are made from glass and when these are installed in a conservatory, the process will greatly reduce the loud noise of rain on a conservatory roof. Rain and hail are able to slide off the roof as a result of the pitch of a roof lantern.
A steeper pitch means that there is less surface area for the rain to hit and thus, less noise on the roof. They are cheap to buy and easily installed.
5. Elastomeric Sheets
Elastomeric sheets are a less common method of reducing rain noise on a conservatory roof, but they're still effective. Using elastomeric sheets on your roof will reduce rain and hail noise by up to 90%.
This process was developed in recent years so it's a fairly new method. The sheets are made of platinum-catalysed silicone material. They have a lifespan of between 15 to 25 years and can be cut into any size, so they're great for any shape or size of a roof.
Continuing with a Polycarbonate Roof
While we recommend changing the materials used for your roof, if you wish to keep your polycarbonate roof, we have a short-term solution for you. You can apply an extra layer of thin polycarbonate to the roof as a way of insulating it. Thus, reducing rain noise with little effort involved. This is a more affordable way of dealing with the problem, but it won't be as effective as the options that we've listed above.
Another option would be to keep the roof frames intact and replace your polycarbonate roof sheet with a different type of material (see options listed above). This would be more of a temporary solution but it's affordable and can work for a short time period.
To conclude, there are a number of different solutions when faced with the problem of rain noise on a conservatory roof. Some solutions are more costly than others while other solutions may be more time-consuming. It all depends on your budget and how much time you wish to spend dealing with this problem.