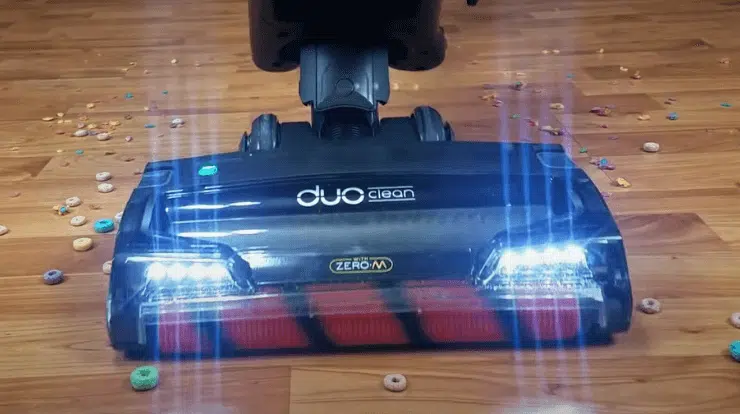 Last updated: January 14, 2022 at 13:07 pm
A shark vacuum is one of the most efficient and usable vacuums on the market. It can really become your best friend around the house, helping you to clean every floor with ease. However, it can start to make a loud suction noise. This will not help trying to reduce household noise.
If your vacuum starts to do this, you may think that it is broken beyond repair. However, this couldn't be further from the case, and it's easy to fix. Read on if you want to learn the 4 main reasons why your shark vacuum is making a loud suction noise, and the steps you can take to fix.
4 Reasons Your Shark Is Making a Suction Noise
1. Your Shark Vacuum is blocked
One of the most common reasons for your shark vacuum (and most vacuums for that matter) making a loud suction noise is because there is a blockage. They're a very common issue, and easily fixed.
Blockages occur when there is a large enough build up of dirt or dust that it blocks the air flow to the vacuum.
Blockages can also happen when your vacuum accidently picks up something too large. These items can quickly block the airways of your vacuum, causing them to make a suction noise.
The suction noise is created because your vacuum still attempts to take in air. Because there is no place for the air to go, a suction noise is created.
Fixing a blockage is relatively easy. All you'll have to do is locate and remove all the things blocking the airflow to your vacuum.
To do this, remove all the vacuum's attachments. This includes the wand, the hose, and anything else that can be removed. Then, use a torch to find the blockage. All you're looking for is a big pile of dirt, or a big item like a cloth or a sock.
Finally, remove this blockage and dispose in the bin. You may want to use some gloves for this part, as it can be gross!
A great tip for inspecting the hose is to drop a coin down the end. If it falls straight through, then there is nothing blocking your hose. But, if it gets stuck, then you know you've got a problem.
Blockages are one of the most common reasons for your shark vacuum making a large suction noise. Be sure to check this problem before moving onto any other problems.
2. Dirty or Damaged Filters
Filters are a vital part of a vacuum's mechanism. So, if they become compromised, this can cause several issues, including a suction noise. Your filters must allow air to pass through the machine easily to allow for good suction, so, if they're blocked or damaged, this can stop air flowing through the vacuum.
Filters can become dirty or damaged very easily. The more you use your vacuum, the more dirt will build up on the filters, until they start to become ineffective. The more dirt, the louder the noise. So, if you're finding that your vacuum keeps getting louder, you may have an issue with your filters.
Shark vacuums come with three filters. These are the incoming air filter, the pre-motor filter, and an exhaust filter. All of these can become damaged and require different methods of fixing.
Your best choice when attempting to clean and fix your air filters is to read the user guide to help you. This will have detailed explanations for each type of filter and will help you to easily fix these issues.
Sale
Last update on 2023-11-21 at 15:59 / Images from Amazon Product Advertising API
If any of your filters are washable, you should give them a clean to get rid of any build up, which may be stopping easy air flow. These will need a day to dry at least.
If you don't have washable filters, you can use your hands to peel the layers of dirt off. But, if these filters are damaged, you will have to buy new ones.
3. A Broken Fan
Another reason why your shark vacuum may be making a loud suction noise is because of a broken fan. Fans are vital to the functioning of your vacuum, so is these become damaged, it could mean bad news for your vacuum. The most significant outcome is that your vacuum will begin to overheat.
But how do fans break in the first place? As you use your vacuum, dirt will pass through the cleaner motor, causing dust to collect on the fan. When this happens, your fan can break easily. It's a very fragile piece of equipment, so even small amounts of dust can compromise it.
A broken fan can't really be fixed. You'll have to replace the fan altogether, and it's hard to do this, so you may need to visit a repairer.
4. A Dirty or Damaged Brush Roll
The final reason why your shark vacuum is making a loud suction noise is because of a dirty or damaged brush roll.
Brush rolls can become either dirty or damaged, so you'll need to diagnose which it is. Give it a good clean, and if the suction noises stop, then you will have officially fixed your problem and you can get back to hoovering.
Cleaning your brush is simple. Just lay your vacuum on its side so you have access to the brush roll and take off any knobs holding it back and remove it. Then clean all the dirt you can see. You could even use a microfibre cloth. Then, place the brush roll back in its chamber and give it a spin to make sure it's fitted properly.
However, if noises continue after you've cleaned the brush, this means that the brush roll is damaged. You'll need to take your shark vacuum to a repair shop to have it fixed.
Luckily, in most cases, your brush roll will just be dirty. And they're inexpensive to fix anyway, so you won't have to spend much money if this is the issue with your vacuum.
Conclusion
So, there are four reasons why your shark vacuum is making a loud suction noise. If you ever feel out of your depth, refer to the user manual, or call a professional to be safe.
Repairing your vacuum will almost always be cheaper than buying a new one, so always try to fix it before spending your money.