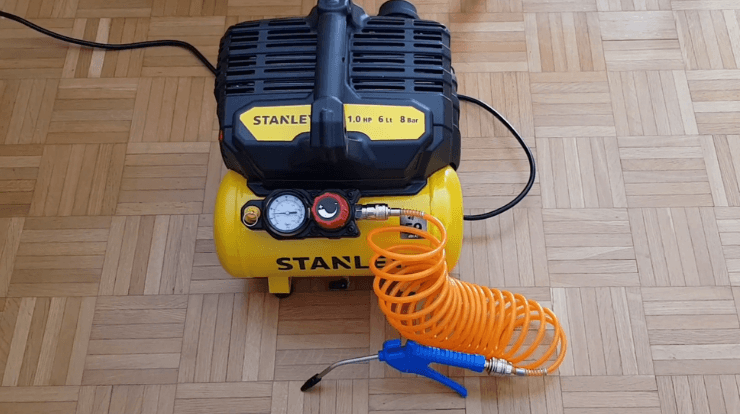 Last updated: March 22, 2023 at 14:21 pm
Silent air compressors can be used for a variety of DIY tasks from blowing saw dust off a work bench, inflating tyres or even spray panting. Whatever the reason you're in the marker, there's one thing all air compressors in 2021 should be, and that's quiet.
In this article:
We'll go through (in detail) what features we look for in a silent air compressor and what our favourites are in 2021. Our main focus is dB level (noise level) but also have other criteria explained below.
Features We Look for in a Silent Air Compressor
dB level – The most important feature, and all products we write about at Quiet Living, is decibel level. This is how quiet the air compressor is and is a key factor in deciding how we rank. Regardless what you're using the air compressor for, quietness is a massive benefit and one we'll go into more details on within each review.
The maximum noise level we have on our list is 65 dB which is incredibly low, so we've considered other factors below.
Weight/Portability – Weight separates portable air compressors from ones better suited to staying stationary. It's important to look at this, as we always prioritise lighter compressors due to ease of use.
Oil-free – All the silent air compressors we recommend are oil free. This also ensure any work surfaces stay stain free. Oil is no longer necessary to run, therefore we opt for the oil free option.
UK plug – There's nothing more annoying than ordering a product online only to find it's not suitable for UK sockets, even if it comes with an adapter. All our recommendations are full suitable for UK sockets.
Easy to use – Using air compressors can be dangerous, especially if using with a nail gun. All the below air compressors have sufficient features to ensure safety.
Top Quiet Air Compressors – Summary
5 Best Silent Air Compressors (Full Reviews)
1. Hyundai 8 Litre HY5508 Silent Air Compressor –

Best Small Tank
A terrific option and also the cheapest compressor on our list
How silent: 60 dB
Capacity: 8 litre
Weight: 15 kg
Motor size: 550w
An ever popular name within the air compressor industry, the Hyundai HY5508 comes in at #1 on our silent air compressor list. Equipped with an 8 litre tank, the HY5508 offers an almost unrivalled 60 dB noise level. A downside is the tank is relatively small, however Hyundai offer bigger tank sizes of 24 & 50 litre, which offer similarly low noise.
At only 15kg (mostly due to the small tank size) it offers portable and lightweight option which can be easily moved around a workshop/garage. As with all we recommend, the HY5508 is oil free, and uses a 3 pin UK socket for power.
Overall, if you're looking for a quiet and lightweight option you don't get much better than the HY5508. Regardless of the small tank, we feel the dB level outweighs the size. The smaller size may even be a benefit if you're using it for odd jobs around the house. However, there is also 24 and 50 litre options available if you need extra juice.
---
2. VEVOR HLA62505 30 Litre Air Compressor – Best Large Tank
How silent: 48 dB
Capacity: 30 litre
Weight: 20 kg
Motor size: 750w
VEVOR are a big name in air compressors, and the HLA62595 is an options offering unrivalled silence. Scoring an incredible 48 dB, this model is the quietest on out list powered by a not-too-shabby 750w motor.
Equipped with a "solenoid" valve, meaning even during constant use the compressor won't overheat. An exterior fan also pushes hot air out, again making sure the compressor stays cool during use. This ensures longevity and value for money in the long run.
It was too close to call between this and the Hyundai, scoring the latter slightly higher in portability. However, if you're looking for a larger tank, this is the sure fire winner.
---
3. Einhell 4020610 24 Litre Quiet Compressor
How silent: 57 dB
Capacity: 24 litre
Weight: 22.2 kg
Motor size: 750w
At #3 we have the very striking Einhell 24 litre compressor. A different upright design than the rest on our list, it lends itself to home workshops or garages. Einhell have included a 10 year rust guarantee so longevity shouldn't be an issue.
Recording a very quiet 57 dB the 4020610 offers an extremely silent option with a tank capacity to suit most.
It's not the lightest we've reviewed due to the tank capacity, but it's light enough to easily move around without extra help. The engine is 750w so power with the 4020610 also shouldn't be an issue.
---
4. VEVOR 9 Litre Low Noise Air Compressor
Small and reliable option
Only comparable in price to the Hyundai
How silent: 64 dB
Capacity: 9 litre
Weight: 13.6 kg
Motor size: 600w
The VEVOR 9 litre compressor emits a dB level of 64. The VEVOR offers an affordable option for those who have portability in mind, perfect for using in a garage or even on a truck for off-roading.
This model is the second cheapest apart from the Hyundai (our #1 choice), so offers great value for money. A very reliable model, this won't let you down when you need it.
The VEVOR also delivers a more eco-friendly option with the piston rings being made from more sustainable materials, although we've not been able to confirm what material this is.
A great choice for those who prefer a smaller tank, and have efficiency and sustainability in mind. Granted, it's not the quietest we've looked at, but does the job.
---
5. Kiei 25 Litre Oil Free Air Compressor
Best for smaller DIY jobs around the home
How silent: 65 dB
Capacity: 25 litre
Weight: N.A.
Motor size: N.A.
We've reached out to Kiei for the missing information above.
Last but not least, the Kiei is the loudest air compressor we've reviewed at 65 dB. Certainty not noisy (or it wouldn't on on our list), it emits a low humming perfect for home garages.
A pressure monitor makes sure it's running smoothly, and automatic on/off is a nice feature.
There's certainly options we would favour over the Kiei, but for the average user mainly using for blowing dust, inflating tyres and spray painting the Kiei works like a charm. If you're looking for a silent compressor to operate larger machinery, look at others on our list.
---
Why a Silent Air Compressor is Useful
Machinery designed for garages is usually noisy. Often times, this machinery can be off-putting to neighbours, customers or colleagues. Especially so, when a relatively powerful motor is involved. This is where a quieter option comes in.
These are all oil-free which means no mess, and less upkeep. A reduction of vibration not only helps noise reduction, but also allows less movement.
Whether the air compressor is being used at home, work or in a car, a silent option has minimal negatives, but one big positive over louder alternatives.
---
Conclusion: Which to Choose?
Whatever the reason you're in the market for a silent air compressor, being quiet and lightweight are two features we score highly. Taking that into account, our #1 choice is the Hyundai HY5508 and #2 the VEVOR HLA62505. Both of these options could be interchangeable, one offers a small tank which we rated as more practical for the average user.
Both of these options offer an extremely low dB level and portability, perfect so as not to disturb customers, colleagues or family.
The others on our list also offer great features, we just thought these two slightly stood out from the competition.