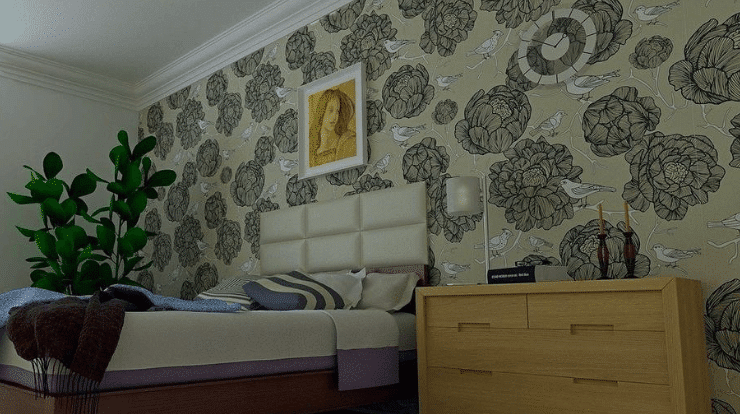 Last updated: October 28, 2020 at 11:46 am
Before discussing the benefits of the soundproof wallpaper, it's worth understanding what it is. As you can easily guess from its name, "soundproof" wallpaper has acoustic features. These wall accessories are sound resistant and you can consider them as soundproof foams for walls.
Generally, these wallpapers are made from closed cell polythene foam. But wallpapers with open-celled polythene are also pretty common. Some of the sound resistant wallpapers also have slippery latex.
So how they function? Unlike regular wallpapers, which usually contain a single thin layer of paper with designs printed on it, acoustic wallpaper has many layers of different materials. The several layers help it to reduce or prevent the external sounds from coming into your home.
These wallpapers also have a brick wall-like structure that adds an aesthetic appeal to your home decor. Despite the wall-like structure, they feel soft to the touch.
How Does Soundproof Wallpaper Reduce Noise?
Though soundproof wallpaper may look like a normal run of the mill covering the wall, it is completely different from the regular wallpapers. While it is not as thick as you may think, a sound resistant wallpaper contains some extra layers to damp the sounds that strike the walls of your home.
It also includes a layer of latex foam or mix, which means that it has a softer feel than the traditional wallpapers. When sound from any external source bounces on the uppermost layer of the wallpaper, it passes through the other layers before it can recoil back at you. This reduces the sound's intensity, and it becomes slightly lower than the actual one. It happens because the layers absorb and trap the sound waves before they could reach you. Note that acoustic wallpapers cannot block noise, but they can control echo.
5. Benefits of Soundproof Wallpaper
So now you understand that sound resistant wallpapers are not fiction; they work. Hanging these wallpapers can help you manage acoustics in your room. So, if you want sound insulation and are interested in finding out more, you should know some benefits of soundproof wallpapers and why to use them instead of other soundproofing methods.
1. Affordable
The main reason you should purchase soundproof wallpaper is that it is relatively cheaper than other sound resistant methods. Not to mention, you can make your walls soundproof without spending half of your family budget.
Obviously, its effectiveness will reflect its low cost, but if you are looking for something to prevent background noises, you need to bring it for your home today.
2. Stylish
You can find some great designs in acoustic wallpapers. They are available in all colours, sizes, and styles. With the help of acoustic wallpapers, you can create a classy ambiance in your home.
Not to mention, you don't need to decorate the walls with other accessories because the stylish designs of acoustic wallpapers will make your space look beautiful. So what are you waiting for? Bring your favourite colour wallpaper with designs like flowers, scenery, animals, villages, or just simple shades for your sweet home.
3. Easy and Quick Installation
Wondering if this soundproof material has a different technique of installation? Well, don't worry. The installation process of these wallpaper is similar to the traditional wallpapers.
It is quick and simple. You only need to paste the back of the wallpaper and stick it on the wall. Make sure to hang it straight. In case if you do it wrong, you will have to tear it. Hence, you have to repeat the same method, which can be frustrating.
Oh yes, don't forget to cut the ends off – after that, you are done. From buying the wallpaper to hanging it on your walls, the whole process will only take a few hours, making it an easy soundproofing project.
4. High Stereo Experience
As we have discussed, these wallpapers help you to create barriers to prevent external sounds from entering your home. Similarly, these soundproof wallpapers also play a great role in preventing sound from leaving your home.
Moreover, watching sports, movies, music, games, or any song becomes a wonderful experience for you in a room with sound resistant wallpapers. It will give you a feeling of the local ODEON when you dim the lights and watch a wonderful film. It will reduce echo, amplification, and reverberation in the room. Hence, you can enjoy the ultimate high stereo experience.
5. Smoke and Fire Resistance
Sound resistant wallpapers can sustain interior fires and smoke. So, you don't have to worry about any hazards.
Applying thick sound resistant wallpaper to your walls increases the fire resistance of your home.
Reasons to Use Sound Resistant Wallpapers
While you have learned the amazing benefits of soundproof wallpaper, you might need more reasons to apply these wonderful accessories to your walls.
Here are some reasons that may force you to use acoustic wallpapers for your walls.
if you share walls with neighbours who fight a lot or play loud music
for music room and home studio
you want to lower the noise coming out from the laundry area
if you want to prevent sound from leaving the kitchen
if the home's location is in a noisy place and you want to make your home quieter
Keep in mind that these wallpapers cannot block noise completely, but they can affect your room's acoustics. If you want a cost-effective sound insulation solution, consider using soundproof wallpapers for the walls in your home.
Bottom Line
Soundproof wallpapers are great to hang on your home's walls. It helps you make your home soundproof while adding a beautiful and attractive touch to your walls. Now you have learned many benefits of using it for your homes, so you should not waste more time. These wallpapers are best to hang on any type of room but don't forget to hang it straight.